So you have got the family to agree to a backyard chicken coop. So the next question is, Where can I buy a Chicken in the UK?
Before you embark on that road, consider the list below as these are important.
How many chicken feeders will I need?
How many chicken drinker waterers will I need?
Do I have the space for a chicken coop?
What type of feed is the best for laying hens?
Our website blog has helpful answers to these questions so you make the right choice.
So back to the question of where can I buy a chicken?
Don't stress. Finding a chicken is not that difficult in the UK. Fortunately we are a nation that loves eggs. so we have plenty of opportunities when buying chickens..
Where can I buy a chicken in the UK?
Poultry Breeders
Even in major cities, you are never too far from a poultry breeder. Many breeders sell their birds online as well as bird shows and poultry auctions. Some breeders specialise in heritage chicken breeds. Others breed and raise egg-layers or meat birds. When choosing your breeder, ensure they are reputable. Check if they have reviews on forums or online reviews so that you know you are getting top quality birds. Another way of checking they are a quality supplier is ask friends or a local poultry club. We have placed some convenient links at the bottom of this page that may assist you further.
Online and in the local classifieds
You will find local chickens for sale online and in the local classifieds. You can buy your chickens as fertilised eggs, chicks or hens that are almost ready to lay (pullets and point-of-lay). It is hard to know exactly what you are getting when you buy chickens online or from an ad, so collect the birds from where they were raised if you can. That way you can see whether the flock is healthy, and ensure they were kept in good conditions. If the vendor does not want to let you see their birds, I would walk away no matter how good a deal you are getting.
Hen rescue organisations
If you are getting chickens primarily for pets, rather than eggs, you may wish to buy a chicken or two from a hen rescue program. These organisations re-home ex-battery hens, that is retired commercial egg layers. These poor chickens are kept in tiny cages and killed at 2-3 years old when their peak laying years are over. Many have never even seen the outdoors! Rehoming a battery hen is a compassionate act, as you are giving an animal that has been abused a happy end to their life. However, you do need to know that while ex-battery hens can continue laying for several years, they will not perform as well as a normal backyard chicken and often have a shorter life expectancy. The British Hen Welfare Trust and Fresh Homes for Hens are two of the better-known rehoming organisations.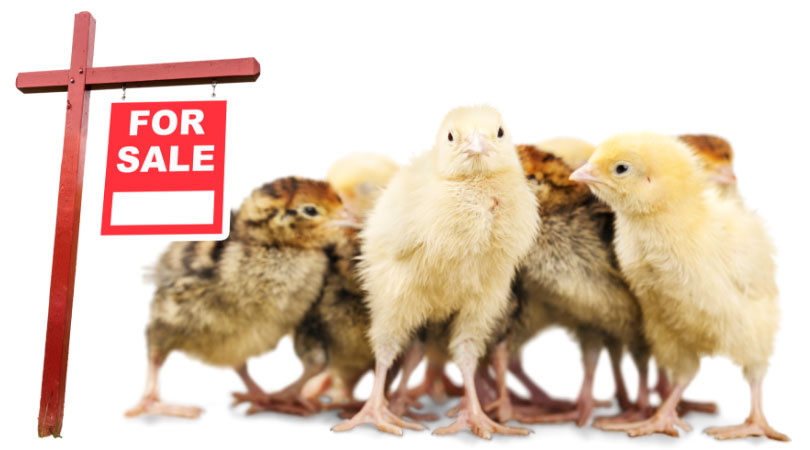 Are you ready to keep chickens?
So now that you know where you are getting your chickens, do you have any last questions? Make sure you are totally prepared for the arrival of your new feathered friends by checking out our handy Guide to Keeping Chickens and Hens.
Click here or here to link to a database listing poultry breeders in the UK.
We hope this information has helped you in your quest for getting chickens for your backyard coop. Backyard chickens are fun for children and create fond memories for their childhood. Happy hunting for eggs in the future.
Rachel at Dine a Chook UK